My friend Dane (Mr.
Fiddy2
himself – check it out and donate some money to a good cause!) came out for the SF Marathon, as well as a lot of other MySpace buddies (Bob, Matt, Mike, and Brandy, to name a few), so we all had dinner together on Saturday night (more like afternoon) at Bocce Cafe down in North Beach.
Me, Dane, and Brandy at Bocce
We had an early night because of our super early start in the morning...let me just say, it's especially hard to fall asleep when it's still light out!
Dane and I got up at about 4:15, got ready, and headed down to catch a cab. I should have known it was going to be an interesting day just by the sheer number of hookers that was out at 5am. I'm not kidding...I mean, I've seen them in my neighborhood before, but never that many! Weirdness. So anyway, we caught a cab down to the start and lined up in our respective corrals. Dane's group took off at 5:30 and mine didn't start until 5:50, so I got to hang out for awhile. Unfortunately, it wasn't enough time for me to use the bathroom (the didn't have NEARLY enough Port-A-Potties there!), and I was in a panic about my first GU packet because I couldn't find any water to take it with! But it all worked out, I ate my GU, said hi to some friends, and lined up with my pace group.
First half 2:04:19
Starting out along the Embarcadero was nice and easy...it's flat and fast, and it's fairly spread out, so I felt pretty good. I took the first hill at Fort Mason with no problem at all – for some reason it seemed a lot easier when I was surrounded with a bunch of people than when I'm running it on my own – and the next flat section along the Marina Green and Crissy Field was fine too. The hills up to the Golden Gate were pretty tough, but I got through both of them with little issue, and I was happy to get on the bridge! Despite the wave start (which was meant to help with the congestion on the bridge), it was like rush hour on the Golden Gate.
Each direction had one traffic lane, which was not quite enough space, especially when you're trying to follow a pace leader. I found myself weaving in and out of other runners to keep up, which was pretty frustrating at times, and it caused quite a problem when we stopped to take our walk breaks (mostly because some people have no running etiquette whatsoever and rather than staying to the side, they walk right in the middle where everyone else is trying to run!), but overall, the bridge was a really nice way to cut out 4 miles of the course!
After the bridge, we hit our last really killer hill (although once again, not nearly as killer as I remember from our training runs) in the Presidio and then headed out to the Pacific coast for a nice, long downhill. This downhill, unlike the uphills, was not nearly as easy as I remembered...I really had to concentrate to keep from getting out of control and destroying my knees with 15 miles to go! From there, we cut across to Golden Gate Park, left the half marathoners to finish their race, and picked up our new pace leader for the second half. My pace leader from SFRRC (Corinne) was hanging out where the two courses split, so she offered me some much-appreciated encouragement!
Second half 2:15:48
The sun came out in full force as we entered the park, but I was feeling pretty good, so I didn't worry too much about it. At first it seemed like everything was going okay, but then our new pace leader started saying things like, "It takes me awhile to get into my pace here..." and "We're about a minute fast, but it's alright for now..." Well, to someone who has only run two miles (like our pace leader there), it might be okay, but for someone who's on their 14th mile with another 12.2 to go, it's not exactly what you want to hear. You want someone who's going to keep you on pace! Our first half pace leader had been really strong, and kept a very even pace, but I really don't think this guy was made for the job.
Anyway, after a few miles with him, I lost it. I tried my best to keep up with the group, but I fell back at mile 16.5 or so, just as we looped around Stowe Lake. I could still see them in front of me until I got to about mile 18, and that's when I completely lost it. All of the energy just left my body at once. I think it's safe to say I "hit the wall" this time around, although quite a bit earlier than normal, and I really have no idea why. I stopped to walk a couple of times, got some extra water, and stopped to go to the bathroom. Then I pulled myself together, took a deep breath, and dug in again. The downhills on Haight Street really helped bring my energy level back up, and as the extra speedy runners of the second half marathon started to pass us, they pumped me up too!
Somewhere around mile 22 I saw the "Jesus Christ Loves You" guy, which put a smile back on my face...he cracks me up!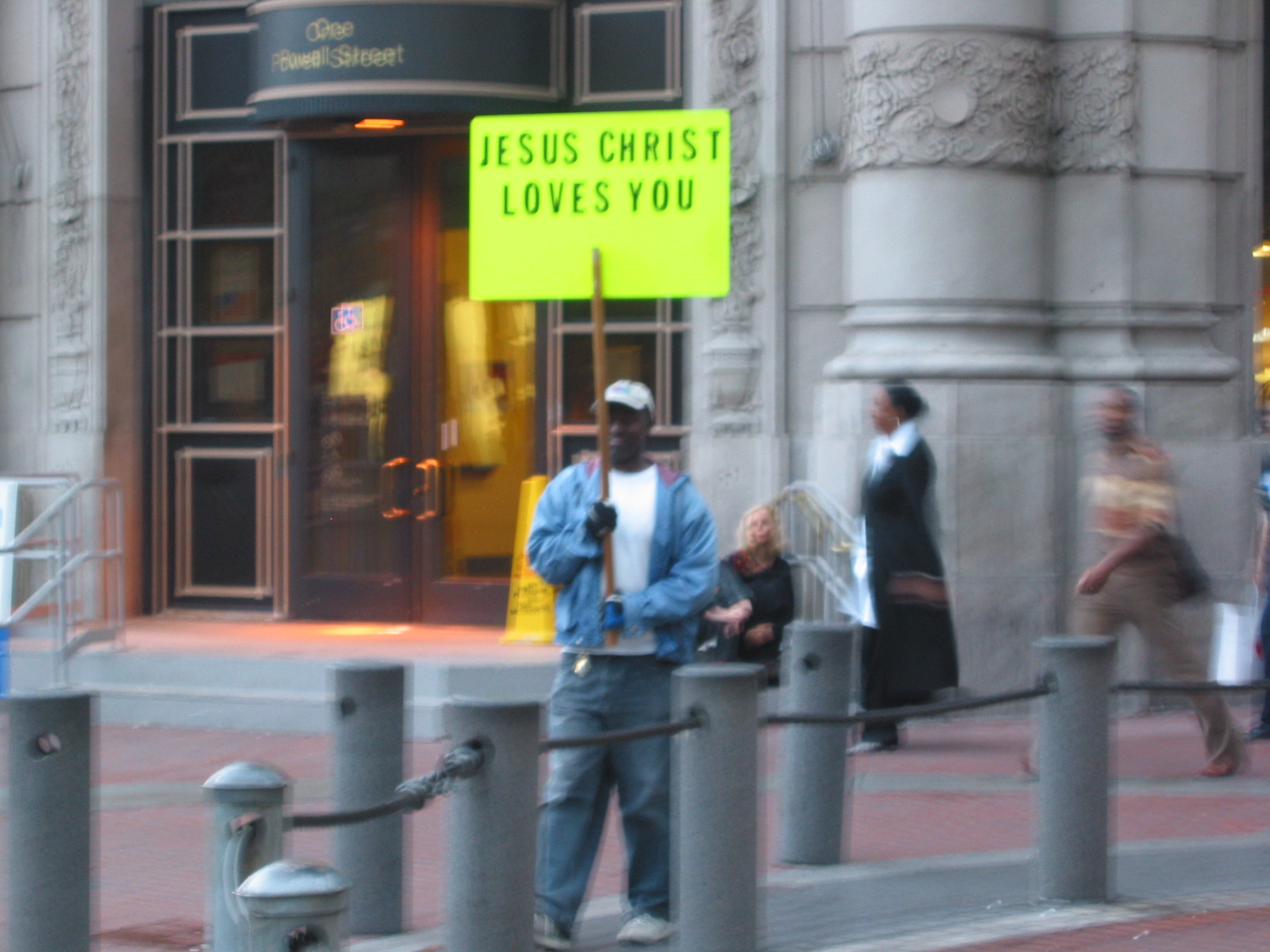 Apparently Frank Chu (of 12 Galaxies fame) was there too, but I never saw him!
Some nice people in Potrero Hill came out to supply us with some extra water, which was great, because it was a really warm second half! I drank a cup and then dumped the other one on myself to cool off a bit. At the last water stop, this kid who is handing out cups looks at me, and says, "Water! Here ma'am, here's some water - you look thirsty!" If I hadn't had so much forward momentum I might have turned around and decked the kid...first he called me "ma'am", and second you NEVER EVER tell someone how bad they look in the last two miles of a marathon! What? Do you expect me to look all cute and happy after running for almost four hours???
Anyway, shortly after reaching the ballpark, with about a mile to go, I finally ran into Dane, who came back to run the last bit with me. I'm sure I didn't look very happy to see him (like I said, it's hard to express happiness when you've run that far!), but I couldn't have been happier (he finished 148th in 3:19)! Much to our surprise, a couple of minutes later we were joined by our friend Matt, who'd had some trouble with cramping several miles earlier. Based on our watches, we knew that I was going to get my PR, so as we passed the 26-mile marker, Dane split off and Matt and I raced toward the finish line that was just ahead. I told Matt to go ahead of me, but he was really cool and told me to go get my PR! I think I passed about 8 people in that little chute before the finish line because I put in every last little bit of energy that I had!
After the race, I got my medal and some food, talked to a couple of friends, and then found Dane, who just happened to be holding a cheese crisp for me – talk about good post-race food...everything else they had was sweet, which is the last thing you want when you've been drinking sports drinks and eating vanilla flavored GU for the past four hours! We got our pictures taken and then headed to the SFRRC tent to say hi to a few more of my running club buddies (who all did very well, by the way, and most of them on their very first marathon!), and then headed home to relax!
All in all, it was a really tough race, but I enjoyed it!
Final time: 4:20:07 – a new PR!!!
Average pace: 9:56 (my first marathon with an average under 10 minutes!)