When I found out our family was doing Thanksgiving in Houston this year, I knew I would be able to wrangle up a group to run a Turkey Trot. My cousin Kim has always been athletic, and her mom Barb has been cycling and running for the past several years (and was actually training for a 50k at the time). Throw in me, my dad, and a few other family members, and we had a pretty good showing.
So Thanksgiving morning, we got up and made some oatmeal for breakfast and then headed down to Sugarland's local running store for the run. This particular Turkey Trot included a 5k walk and a 5 mile run. Kim, Barb, Dad and I did the 5 miler and my mom and cousin Becca did the 5k (Katie was going to run with us, but was getting over a cold, so she opted out). It was absolutely FREEZING at the race start. It was also ridiculously windy, so you can imagine it wasn't particularly pleasant. Needless to say, we were really glad when the race finally started!
The race wound through a nice Sugarland neighborhood, but it was really hard to gauge how many runners were ahead of me. There were a lot of really fast people though, so I didn't really think about placing. Mostly I just wanted to get a sub-8 pace (I decided this on a whim sometime in the first 5 minutes of the race). So I ran hard. I focused on random people and picked them off one by one. My favorites to pick off were the guys who seemed really tough at first, and who would try passing me, only to be passed by me again a short time later (for good!).
I knew there was a turnaround somewhere in the race, but the road seemed to go on forever and it was curved, so you couldn't where the turn was. The fast runners had been running by on the other side of the median for a while, so I was getting annoyed. Fortunately, the turn finally came, and I knew that I could at least look forward to seeing my dad, Kim, and Barb on the other side. Dad and Kim came first, and Barb came shortly after. They gave me an extra boost just before I turned out of the neighborhood. The water stop after the turn was serving brown water from the fire hydrant…definitely the crappiest water station I've ever seen in a race! I was seriously disappointed, but I knew the end was close, so I don't even know if I bothered drinking anything.
We passed a little park, and then hit the final stretch that led to the shopping center where we started. I out-kicked the girl I'd been running behind for the last stretch, and made it across the finish line in 38:53, a 7:46 pace! This was the first time I was honestly afraid that I was going to throw up after a race. I walked around a little bit to compose myself, and then I jogged back to pick up my dad and Kim. I caught them somewhere around mile 4, and we all ran in together (they came in around 56:30). Barb came in shortly after us (at 57:50), and then we waited for my mom and Becca. Becca actually decided to run most of the 5k (mostly just because it was so cold). I decided to run back and get my mom, and I walked her in too.
We were all freezing cold, so we went over to the finish area, and we got some coffee. Barb went over to check out the race results and noticed that I had placed 3rd in my age group – I had no clue! There were so many fast people ahead of me that I didn't think it was possible, but things worked out in my favor. We stuck around and waited for the awards ceremony – fortunately it was sunny, so at least we had that going for us! I took home some of the coolest hardware ever. Check it out:
My kick-ass turkey trophy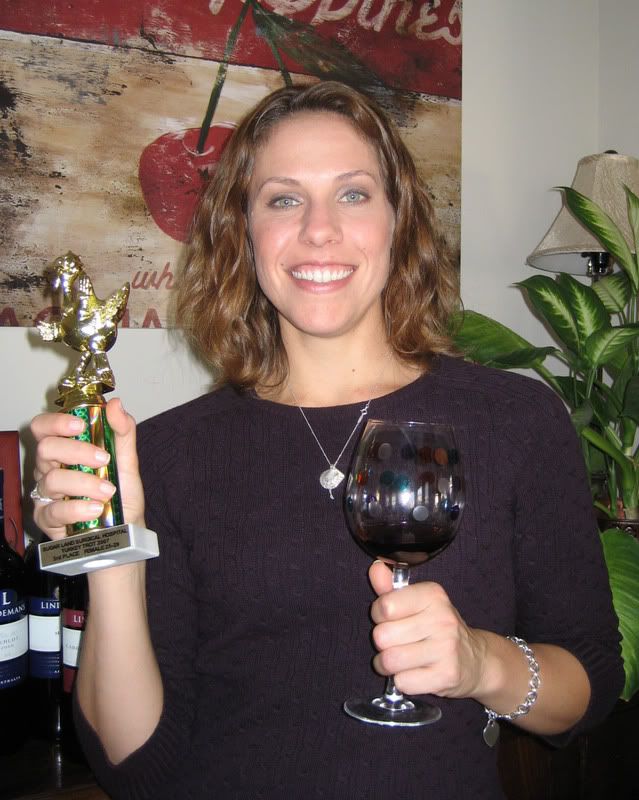 Double-fisting it: Turkey trophy and a well deserved glass of wine
Barb is cool. By the way, she finished her 50k in 8:44:45!