Yesterday after our Nike run (I did an easy 4 miles – the shortest possible distance), Annie, Michelle, Clare, her roommate Jessica, Jodi, Maria, Marcus and another pace leader whose name escapes me at the moment went to lunch at Home Plate down on Lombard Street. We had some fabulous scones and other tasty breakfast items (got there!), and then Annie, Michelle, and I headed down to San Jose to pick up our race packets. We got to the expo at about 3:00, and after we got the essentials, we wandered around a bit to see if there was anything good. We didn't find a whole heck of a lot, but we managed to run into about 6 other people we knew. Bob (AKA White Tiger) and Mitch (AKA…) arrived at the expo shortly after I did, so we all hung out there together. I had planned to catch a ride back up with Annie, but I decided to stay in San Jo and have dinner with Bob and Mitch so we could catch up.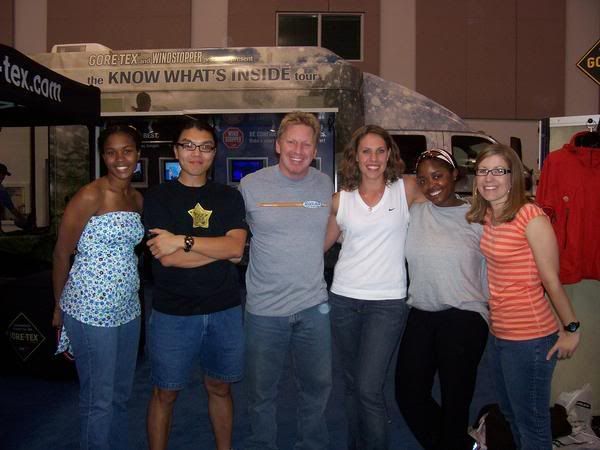 Tanya, Mitch, Bob, me, Annie, and Kathryn at the expo
There were a ton of people downtown because there was a Sharks game last night (and I'm sure there were a ton of runners in town for the race), so finding a restaurant >looked like it might be a bit of a challenge. There was an hour wait at the Old Spaghetti Factory, so we nixed that idea, but there happened to be a place next door that was kind of hidden, and since they had pasta on the menu, we went for it. Mitch and I both had Chicken Marsala and spaghetti (which, much to my disappointment, had mysteriously creamy Marsala and Marinara sauces…this worried me a little bit because it was not what I was expecting!), and Bob had Chicken Tikka Masala, which looked delicious! The food was pretty good, and we chatted for a little over an hour until I had to leave to catch my train back to the city.
My ride back up was pretty uneventful, but it was a long, and fairly complicated ride. I made it to bed at about 10:30, and I slept like a baby!
RACE DAY
I got up around 5:30, and Matt came to get me at around 6:00. We headed down to San Jose in the dark, and through a massive fog bank for the majority of the 45 minute drive. At times we couldn't see more than 20 feet in front of us! But as we got closer to San Jose, we came over the hill, the fog broke, and it was a beautiful day! We found a sweet parking spot close to the start line, and we did our last minute preparations before we headed over to the start area. We made a stop at the port-a-potties, and then checked in our bags. It was a little cold, so we went for a bit of a jog to warm up our legs and our bodies. Another trip to the bathroom and another quick jog, and we decided to make our way to the corral. We were happy to see that Carolyn was in the same corral, so we lined up with her (but not before one more quick trip to the port-a-potty), and before long we were off.
The first few miles were great. We were on pace for a 1:45 half (that's an 8 minute mile). Problem was, the 1:45 pace was NOT EVEN CLOSE! They ran the first three miles way too slow (by about 15 seconds each), but then decided to surge, running 7:30 miles to catch up. While we weren't really planning on running with them, they totally screwed us up mentally. There were two pacers running together, supposedly to keep each other in check, but they didn't do a very good job. They both wore just a regular running watch, and I think it would have been beneficial if one of them had worn a Garmin while the other wore the regular watch, just to keep a more even pace overall.
I was still feeling good until about mile 8 (those miles were pretty much a blur, except for my 10k PR!), but then I started to get a little tired. I also started to have some kind of stomach issue…I didn't know if it was the Accelerade (which I'd never used in a race before), or if I'd had too much liquid at the first couple of aid stations or what, but I was feeling a little funky, and my legs started to feel weak. I knew that I wouldn't be able to keep the pace for the rest of the race, so around mile 9, I told Matt to go on ahead.
I kept him right in front of me for a good mile or so, but somewhere between miles 10 and 11 I got a massive cramp in my side. I tried to breathe it out, but it was one of those side cramps that requires you to stop, hold your side, and breathe really deeply. I wanted to cry, it hurt so bad! I did that three different times in the last 3 miles, which made my time suffer A LOT. I tried my best to push it when I was able to, but I went from an 8 minute pace in the first 9 miles to just over a 9 minute pace in the last four.
I managed to finish strong though…the side cramp let me get through the last .6 without any more issues, and I came in at 1:48:38.
Matt managed to finish a few minutes before me in 1:45:16 – a 5 minute PR!!!
Here are some of our splits: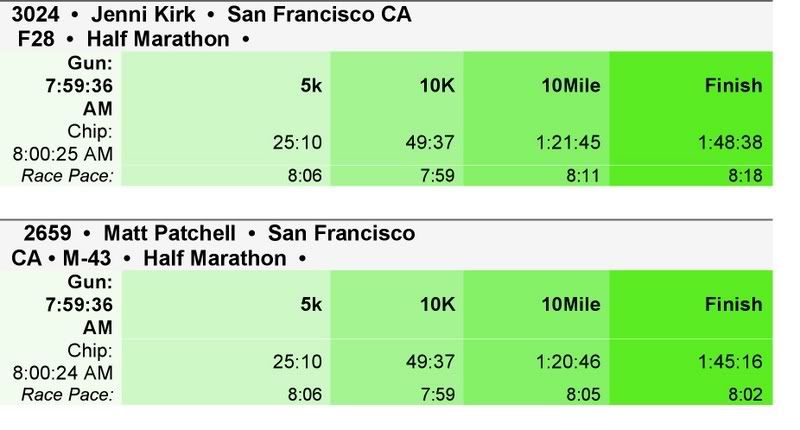 As you can see, we were right on (and right together) for the first part of the race. The 10-mile is one mile after I told him to go on ahead. After that, I died! While I didn't set a PR (I was off by about 30 seconds), I did do a lot better than last year (1:51:59), and my body feels absolutely fine right now. I honestly don't feel any different than I would after a tempo run. So that, combined with my course PR makes me feel good about today's race, even though I didn't meet the goal I was going for.
When I got home I realized that I must have been pretty dehydrated during the race (possibly the root of my cramping issue)…I drank a decent amount during the race, and I drank two bottles of water and a latte afterward, and my pee was really dark (funny the things we runners are willing to talk about, isn't it?). If it was still that dark after all that liquid, I'm sure it was not a good sign for the race. Lesson learned. I'm going to be very well hydrated for the next one!
Speaking of the next one, I've got the Nike Women's Marathon coming up in ONE WEEK, so it's probably good that I didn't kill myself at this race. I'll have plenty of other opportunities to get that 1:45 in the near future!